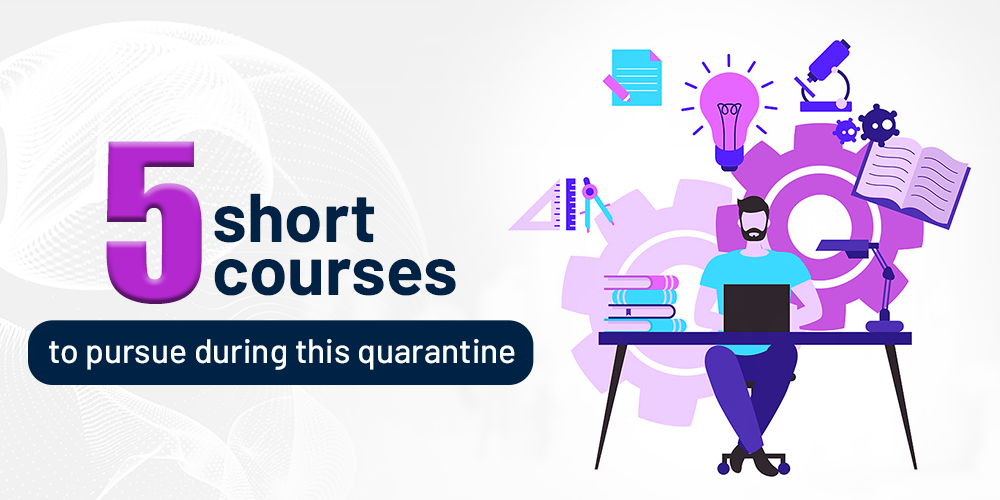 5 short courses to pursue during this quarantine
Nowadays the word quarantine has become familiar. Since the COVID-19 outbreak, many countries across the world have gone under lockdown and this quarantine time has given the opportunity for many to do a lot of things that were not possible earlier. Along with many other options, this quarantine has allowed students and professionals to take up courses to enhance their career. Be it one-hour long course or a few hours long course, this quarantine, take the opportunity to learn something unique and create a mark in your resume.
Here are 5 short unique courses that might be useful for you -
Connect with customers over mobile -
Provided by Google, this course helps one to make a strong digital foothold and reach new potential customers with the help of a mobile. This beginners level course has two modules and takes a duration of only two hours.
Chasing your Dream: How to End Procrastination and Get a Job You Love -
This online course is offered by EdX with a fee of only Rs 3,693. This five-week-long course involves a dedication of 2-6 hours per week. It is a self-paced learning course that deals with procrastination and lets you grow further in your career, breaking the shackles of comfort.
Analytics courses -
The technological world is changing rapidly and to match the growth, you can take up this one-month online self-paced course organised by Jigsaw Academy for beginners level. This course promises a fun way of learning and will bestow a certificate at its end. Guided by faculty, technical support and case studies, this course comes at a price of only Rs 2,800.
Cybersecurity 101 -
With the emergence of the data-driven world, cybersecurity is one of the most lucrative career choices. In collaboration with HackerU, Jigsaw Academy provides this Masters level certificate course. It is a free, one-week-long instructor-led programme.
AI for everyone -
It is a four-week-long course with only 2-3 hours of study per week available at coursera.org. This course is curated for non-technical people to make them conversant with the buzz work artificial intelligence (AI) and its benefits. Combined with the fundamentals of AI, data science and machine learning, this course is indeed interesting.
Apart from these, there are other courses like several MBA programmes, PG programmes in Life Insurance, sending professional email programmes, courses on self-driven cars and others, which are different as well as useful to pursue during this lockdown. Start picking now!