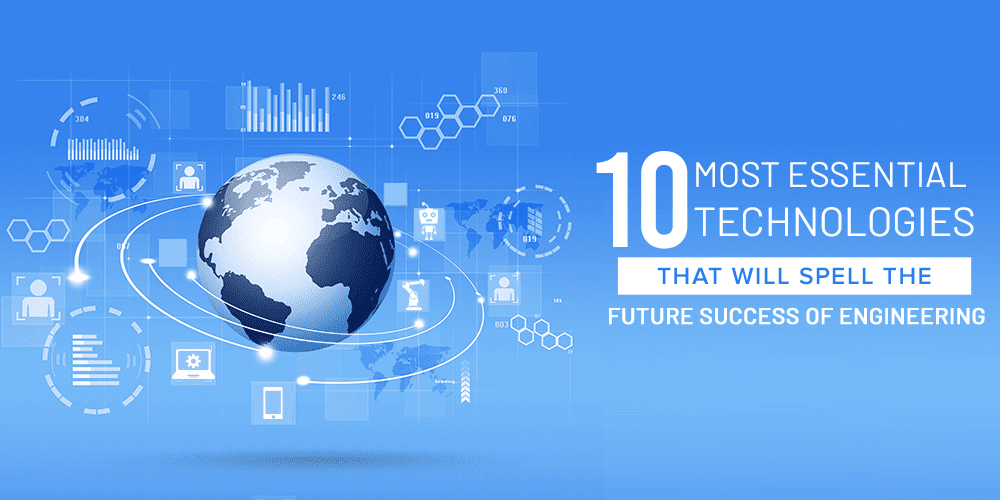 The 10 most Essential Technologies that will spell the future success of Engineering
Creativity and vision are the attributes of great engineering. Foreseeing the machines of tomorrow is especially imperative, and several technologies – visible and invisible – could alter the way we design and make products.
The top trends of essential technologies that could spell the future success of Engineering are as follows
5G
It's time to say bid adieu to 4G! 5G is the quicker successor to 4G and it is arriving soon. At the end of 2019, AT&T will create its 5G Network for mobile devices, and in the near future, it will be in machines, IoT devices, cars, infrastructure equipment and drones. 5G will enable machines to make long-distance data calls to other electrical and mechanical devices at speeds quicker than today's home Internet connections.
5G modems are already rolled out by Qualcomm, Intel, Mediatek, Huawei,and Sierra Wireless. While Ericsson talked about 5G technologies for machines and IoT devices, Ubimetro takes pride in introducing a 5G-connected street lamp. Whereas Germany's Fraunhofer Institute exhibited a 5G security camera with jet speed connection to a computer and the result is that it could immediately identify a face.
Blockchain
Many have the perception of blockchain is quite similar to bitcoin. However, it is not correct and Blockchain is the essential technology that makes bitcoin possible, and it can be tailored to manufacturing supply chains. Companies like Nokia and Cisco are exploring ways to log timestamped data sent from sensors on a digital ledger that is at the center of blockchain – and immediately verifying it as being authentic. A deeper audit trail on a blockchain could help in the proper management of machines and sensors.
Augmented Reality
The concept of 'augmented identity' is vital to stopping future car theft. IDEMIA, a French company, is planning to bring facial identification for the authorized use of cars. Sign up your face with a system, and a car will unlock only if it identifies your face. The technology uses location tracking, sensors, and software. IDEMIA has a big goal of enabling a more protected shared driving culture.
5G Robot
NTT DoCoMo of Japan displayed a 5G humanoid robot "that uses 5G to reflect the operator's movements in real-time and carry out tasks from a remote place'. The idea was to showcase the speed of 5G and how it can imitate human movement almost immediately. NTT plans to erect 5G IoT devices in 2020 Olympics to be staged in Tokyo.
Smart Cities
Nokia has a creative vision of how smart cities should appear with new blockchain, 5G, and IoT technologies. Nokia's "sensing as a service" platform offers a way to timestamp sensor data, securely gather it, and monetize it via blockchain.
The data transmission occurs with 5G. A software layer does the sound work of evaluating data, identifying anomalies, and making guess. Overall, it's a new way of gathering data and transacting, specifically in "video surveillance, parking, lighting, environmental sensing, and waste management", the company declares.
Security
A number of IoT devices were impacted by the recent Meltdown Chip and Spectre vulnerabilities, which are perceived to be the mother of all hardware hacks. Chip makers and devices. In the backdrop of this, chip and device makers have apprehensions on the security of IoT devoices as no one likes to see hackers targeting traffic signals and smart medical devices.
Autonomous vehicles
Any show cannot be complete without jazzy cars parked on the floor. Autonomous cars on the MWC floor put up with 5G modems showcased the future of car communications. Emerging vehicle-to-vehicle communication protocols will enable cars to talk to each other, sharing traffic and weather information directly. It is already being done, but needs access to a cloud service. Companies such as Telenor exhibited autonomous cars using 5G, although more applications are being looked at.
SIM cards in machines
Every 5G comes with a new SIM card that will allow machine-to-machine communications between infrastructure equipment and devices. The eSIMs will be embedded on CPUs or PCBs or could slot in for modularity. Able devices exhibited a smart traffic system operating independently with an eSIM card and a chip, which has an additional security layer.
Smooth operator
An accurate diagnosis of a health condition may depend on readings from numerous medical devices. CISCO-built Crosswork software-and-hardware platform allows all devices to work efficiently and smartly through machine learning and other tools. An exciting side feature is Health Insights that can collect data from medical instruments in a systematic fashion. Add a software intelligence layer, and you receive a quick examination of a disease from the readings. It's an awesome automation tool, although not as reliable as a doctor's diagnosis.
Conclusion
Though new technologies enhance productivity, hone business sight, or reduce risks, there are apprehensions that automation triggers total job loss leading to a rise in unemployment.
5G, Blockchain, Augmented Reality
5G Robot, Smart Cities, Security, Autonomous vehicles
SIM cards in machines, Smooth operator