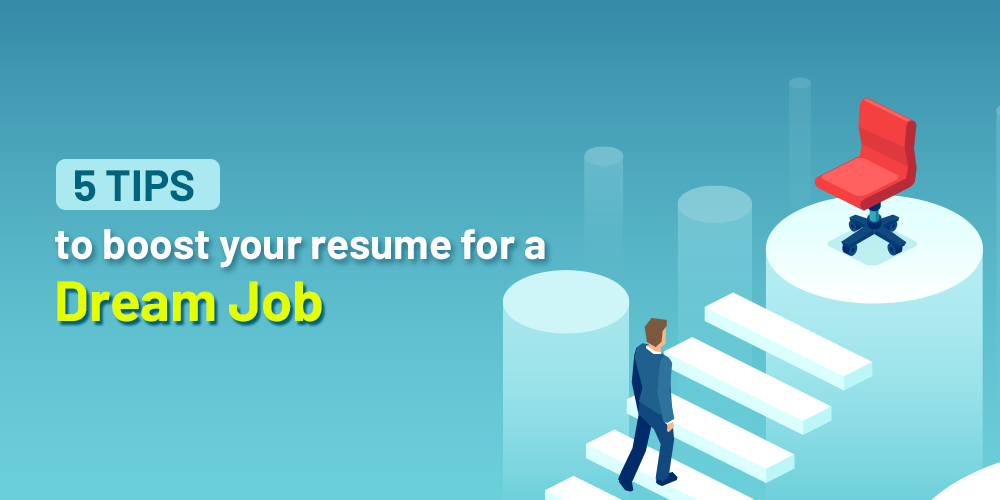 5 Tips to boost your resume for a Dream Job
A resume is the first key step to grab a job. Even before appearing for the written exam or giving a one-on-one interview, your resume reaches to the prospective employer and it decides your fate, whether you should be called for the selection procedures or not. Creating a powerful resume has never been a piece of cake. And today's tech-driven employment landscape and escalating competition have made it more challenging to get noticed.
Here are the 5 ways that will help you to enhance your resume –
The right 'first impression' -
Create value and a clear picture of your objectives and achievements since the headline and summary section to capture the reader's superfluous attention. It is recommended to emphasize on the expertise, experience, professionalism and success aspects of your profile.
Optimize resume as per need -
The same resume can't be sent to different companies that belong to two different industries or focus into unlike businesses. Concentrate on the specific disciplines and customize your resume for individual employers.
Enhance readability -
Understand your interests, qualities and expertise and showcase them in a comprehensible and understandable language to make your resume easily readable and quickly gleaned. Work on adding the obvious yet essential qualities of yours, consolidate job positions and not each assignment list separately. It is highly recommended to avoid repetition and use one font and its various attributes to make it more readable.
Showcase achievements and accomplishments -
A resume needs a little boasting but in a subtle manner. Quantify and monetize your career accomplishments and try to mention numbers instead of just focusing on describing the responsibilities. Your resume should accentuate the results that you have delivered with precise examples in concise sentences and bullets.
Maintain the length of resume -
It is one of the most important aspects of your resume. An employer receives hundreds and thousands of candidatures and it is not necessary he/she will give time to read your 3-4 pages long resume. Keep it as much short as possible. Use crisp and concise sentences and restrict your resume length to a maximum of two pages if you have more than 7 years of experience. Else, with low experience, restrict your resume to one page.
With the rising competition and changing world, a good resume can land you in a dream job. So, get started today to improve your resume and grab your dream job.