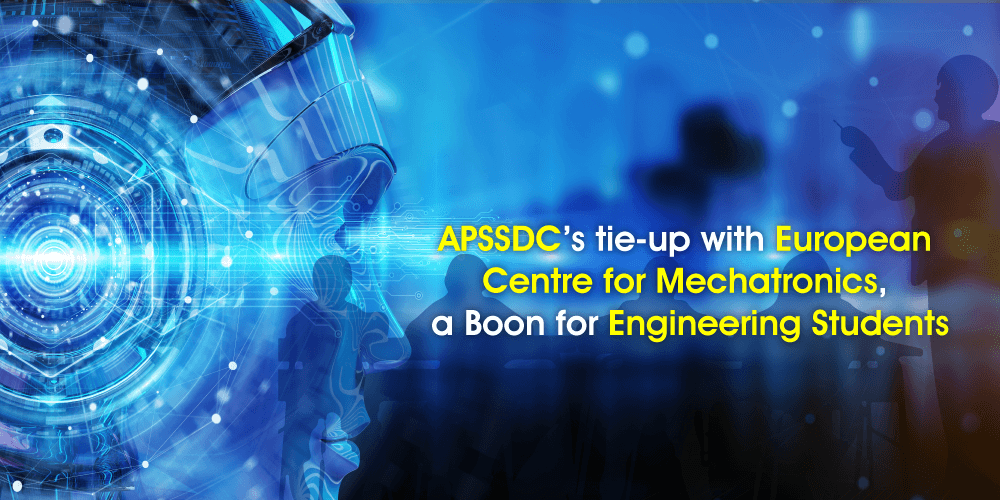 APSSDC's tie-up with European Centre for Mechatronics
In a first in India, the Andhra Pradesh State Skill Development Corporation (APSSDC) in November 2018 entered into a Memorandum of Understanding with Germany-based European Centre for Mechatronics (ECM) to establish Indo-European Skilling Centres to provide training in Mechatronics, Industrial Manufacturing and Robotics to students in the engineering colleges across the state. The move aims to enhance the employ-ability of the engineering students in AP.
Robotics and Artificial Intelligence are ruling the world today and their value should be leveraged in the fullest potential to explore the latest technologies. With this deal, the latest technology can be taken to the classroom to make the students more competent in the ever-growing global employment market.
With a target set to train 10,000 students a year in the fields of mechatronics, robotics and industrial manufacturing, the Indo-European Skilling Centres willimpart training to 250 third and fourth year engineering students from each college.
12 engineering colleges including AITS, Rajampet have been selected for the training in the first phase. A total of 3,000 students will be trained by Akon University of Germany and the ECM in the first phage. The robotics labs being set up in the selected engineering colleges are equipped with Germany's Lugus and Italy's COMAU robots, which cost Rs 30 lakh each.
How the Engineering Folks Can be Benefited by This Strategic Move?

Better Employability
The students will be trained on Mechatronics, Advanced Applied Robotic Control 1.0, Advanced Applied Robotic Control 2.0 and Advanced Applied Robotic Control 3.0. which are high on demand. Practical exposure to AI and these trending technologies will improve their technological skills and help them get employment in their dream companies.
High-end Courses at Nominal Cost
APSSDC and ECM will jointly sponsor 90% of the course fee and the colleges or the students will have to bear only 10%. After successful completion of the training the students will be certified by Aachen University, Germany.
Avenues to Study and Work in Abroad
This project gives students a great opportunity to study in German Universities with internship facilities in different companies. By proving their skills, meritorious students can later beengaged in those German companies.
Conclusion
Training in Mechatronics, Industrial Manufacturing and Robotics in the highly-equipped robotics labs will prepare the engineering students to cater to the ever-demanding needs of the industries.Students in every engineering college throughout the country should be imparted such trainings that will help them explore the emerging technologies.