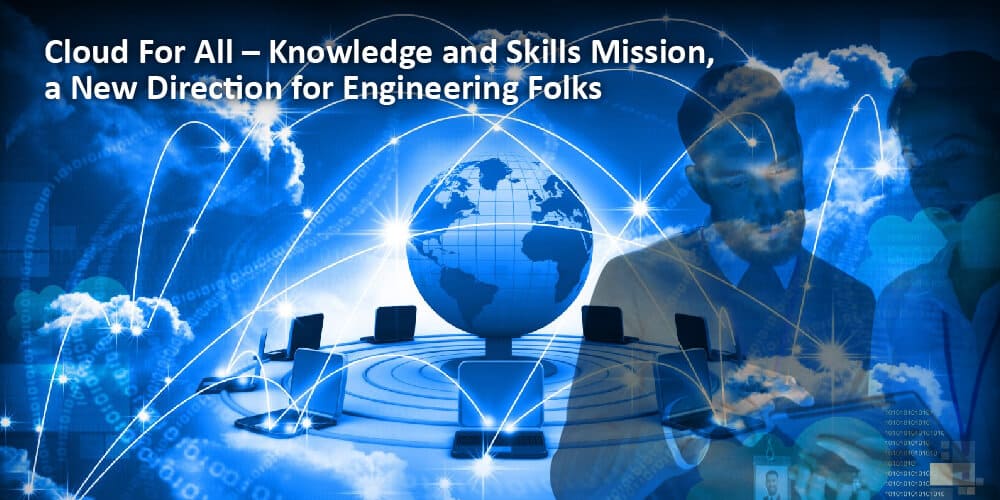 Cloud For All – Knowledge and Skills Mission
Government of Andhra Pradesh declared launch of its Cloud for All – Knowledge and Skills Mission in Nov 2018. It aims increasing skillfulness in nearly 60,000 students from over 300 engineering and non-engineering colleges by year 2020.
The constructive work of enrolling students and training the faculty started in May 2018 wherein 200 faculty members were imparted training and over 13,000 students enrolled in Sept 2018 from 130 non-engineering colleges.
Cloud computing and education has a tie up of providing services to the learner's on demand without manual intervention in managing the resources and computer storage available to the internet users.
Association of cloud computing with educational institutes got momentum with support from government to modernize schools and colleges of course the obstacle is huge investment, lack of digital infrastructure and IT skills.
APSSDC hired 100 mentors as trainers to drive the AWS Educate Program – Cloud For All program, to achieve the goal of training 25,000 students in software development of gaming technologies and 2,000 students are receiving training to use Amazon Sumerian, which enables developers to create and run virtual reality (VR), augmented reality (AR), and 3D applications without any software programming or 3D graphics know-how.
Essentially various computing resources being set at required locations that are digitally connected create a secured framework for complete educational information including the course syllabus, content, lecture videos, student/teacher information etc.
Benefits of Cloud in Education for Engineering Students
Cloud computing a manifest requirement for future of students with involvement of educational institutes, the IT expenses reduced, systems efficiency and accuracy is increased helps in expansion of user base of virtualized resources via Internet disbursing benefits to student users and teachers.
Students can avail virtual classroom training without installation, flexible learning hours, and easy access to lecture videos, personalized lessons, physical location is not a constraint for studying, and they can share data using the portal.
This scheme is enhancing, the employability skills of the students by making them industry ready and join the workforce with confidence accompanied with knowledge. The careers that this scheme may lead students to are Cloud Support Engineer, Data Integration Specialist, 3D Designers, and Machine Learning Scientist etc. The detailed instructional modules, course assessments, and project at final stage gives authenticity to the course structure by AITS.
Next generation of IT and cloud professionals from 140 engineering colleges of AP will be capacitated with this initiative "Cloud for All Knowledge and Skills Mission".
Andhra Pradesh State Skill Development Corporation has vision to empower 20 million people in 15 years to acquire skills that can help the individuals meet demands of industry specific. The intention of launch of Cloud for All was that AP becomes knowledge hub for the world and there is abundance of skilled-workforce.
Education beyond geographical boundaries is solid advantage of Cloud computing that has opened new ambits of learning.
Hence, AITS is inspired to make powerful & skillful engineers, which is need of the hour and play vital role in overall development of students.